You can file both medical and non-medical appeals online or by contacting your local Social Security office.
When we make a decision on your application, we will send you a letter explaining our decision. If you disagree with our decision, you can appeal. You must appeal within 60 days from the date you receive our decision letter.
You'll need the date of the unfavorable decision from your letter and any supporting documentation you wish to add to your appeal.
For more information, go to the Appeal A Decision page.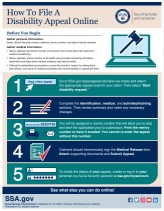 How To File A Disability Appeal Online